As seen on Oprah and Good Morning America!
Thermage is an FDA-approved, non-surgical, non-invasive procedure that tightens sagging skin, while it stimulates your skin to rebuild collagen in the treated area. Thermage CPT is the 3rd generation of the Thermage skin tightening systems. Thermage CPT allows greater tightening and more comfort than the previous Thermage technologies.

Thermage CPT may be used to help alleviate a double chin, tighten and lift eyelids, reduce sagging and créping skin below and around the eyes, as well as tightening skin on any area of the body, including upper arms, abdomen, knees and thighs. For the chin and neck areas, Thermage can help lift jowls as it tightens the dermis around the chin and jaw area. Thermage can also help with the gobbler look as it tightens that area of the neck.
Results from Thermage may endure for years, depending on the original condition of your skin and what you do to care for your skin after your procedure. Downtime is minimal. Most patients resume their normal routine within a few hours.
How Thermage CPT Works
Our skin is made up of three distinct layers. The outer, visible layer is called the epidermis. The 2nd layer beneath the surface is called the dermis. This 2nd layer of skin is much thicker than the epidermis, and it is rich in collagen and elastin fibers. The 3rd and deepest layer (beneath the dermis) is called the subcutaneous layer. The subcutaneous layer consists mainly of fat cells known as adipose.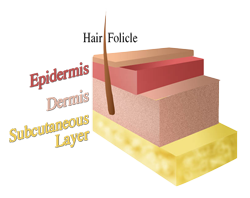 When the collagen in these three layers breaks down due to sun exposure, tobacco use, genetics, or the normal aging process, your face begins to sag and wrinkles form. Naturally, treatments that work on the surface of the skin stimulate cell turnover and increase collagen production. However, treating the deeper dermis and subcutaneous layers can have a much more significant tightening effect.
Thermage tightens and renews your skin's collagen in all three layers with a proprietary monopolar, capacitive radiofrequency (CRF) technology that safely delivers heat and energy deep into all three layers of skin. The Thermage CRF technology works with the web of collagen in the inner dermis layer of skin, causing the skin to tighten more effectively.
The Thermage heat delivered even deeper into the fat of the subcutaneous layer provides additional skin tightening. Thermage CPT delivers deep uniform volumetric heating powerful enough to naturally tighten and contour skin and underlying tissue, as well as providing some improved tone and texture visible in the outer epidermis.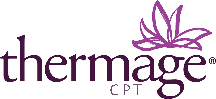 Unlike other skin tightening systems, including bi-polar technologies, Thermage CPT can deliver results that can last for years, in as little as a single treatment. Other skin tightening systems typically provide results that disappear within weeks or months because they do not treat the skin as deeply and powerfully as Thermage CPT's patented technology. This is why other treatment options usually require several treatments. Results from a Thermage treatment are typically gradual, with optimal results visible in 4 - 6 months.
Most patients are back to normal activities within hours of a Thermage treatment.
Thermage is the only FDA-cleared skin tightening procedure that can deliver long-term results in a single treatment. Thermage is utilized by more than 2,300 medical practices in 80 countries. More than 600,000 Thermage treatments have been performed worldwide. With more than 50 patents on its technology, Thermage CPT is the gold standard for skin tightening.*
It's never too late to begin reshaping your future. For a free confidential consultation, please email us or call us today at 972-608-0000 and let us help you reveal your natural beauty.
*Thermage CPT is manufactured by Solta Medical, located in Hayward, CA