What Are Your Concerns?
You may have a hooked nose, a bump on the nose, or humped nose and desire to remove the nose hump or straighten the hook for more natural contours. Many patients are worried about a large nose or nose that is too wide, and want a smaller nose or narrower nose. You might be worried about nose depressions, nose indentations or a sloped nose. You might think you have large nostrils and want smaller nostrils. You might have upturned nostrils and want a more natural contour. Some patients are worried about a crooked nose, deviated nose or asymmetrical nose and want straighter, more natural contours. Whatever your concern, we can help.
How An Experienced Rhinoplasty Surgeon Can Fix The Problem
A Rhinoplasty procedure (also known as a nose job) can provide more natural, pleasing contours. A rhinoplasty nose job can reduce the overall size of a nose that is too large. Rhinoplasty can narrow the tip, remove a bump, straighten a hook, narrow or widen a misshapen nose. An experienced facial plastic surgeon such as Dr. Roberts can also change the nose angle or shape of your nostrils. Dr. Roberts can improve the angle between the nose and the upper lip. He can reshape nose depressions or indentations. Sometimes, breathing problems can be relieved, as well.
Designing Your New Nose
The rhinoplasty design should be specific to your unique facial structure. A common mistake among plastic surgeons who either hurry the procedure or have less experience is to mold an essentially one size (and shape) fits-all nose. Dr. Roberts feels that your nose should reflect your individual anatomy and personality, so he spends an abundant amount of time in preparing for your rhinoplasty procedure. He also spends more time on each rhinoplasty procedure to help optimize natural contours, as well as helping ensure the structural integrity of your newly contoured nose. Dr. Roberts never performs more than two cosmetic surgeries in a day.
Dr. Roberts' goal is not just a natural appearance, but one that looks natural on you.
What to Expect
Working from inside the nose, the bones and cartilage are modified and reshaped. A nose bump can be reduced or totally eliminated. The sides of the nose can be brought closer together to make the nose narrower. The nasal tip can be made smaller and also lifted to enhance its appearance. When a large, oversized nose is made smaller, sometimes the nostrils are also reduced in size. Unbalanced noses, crooked noses or curved noses can be straightened and made more symmetrical.
After surgery, a splint is placed on the nose to maintain the new shape and to protect it for the first week. Most people return to work within a week. Bruising around your eyes starts to fade within a couple of days and typically disappears totally within a week or two. Any residual bruising may be covered with makeup after a few days post surgery.
Your Comfort in the Healing Process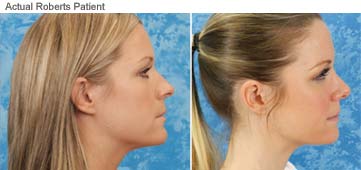 For your added comfort, Dr. Roberts typically utilizes splints to stabilize the nose for the first few days of the healing process. The splints allow him to avoid packing the nose. A packed nose can be quite uncomfortable and allows no breathing through the nose until removed a few days later. Utilizing splints can take more time during the rhinoplasty procedure, but Dr. Roberts feels your comfort is worth it.
What You Will Notice
The results will be immediate and dramatic if your nose was very large or if a big hump was removed, but usually the changes are more subtle, yet often life-changing. Unless your nose job requires extensive restructuring, patients often comment that friends tell them they look great, without knowing they had a nose job. You'll have more self confidence with your new nose. Patients often comment that they believe a nose job has helped them with interpersonal relationships, as well as increased opportunities in the workplace. Although you'll be able to notice improvement in the shape of your nose right away, the final results will be completely visible after several months.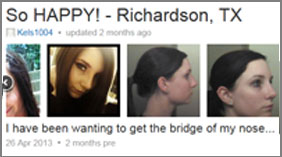 What Is It Like...
We learned that one of our patients posted her day by day experience with her Rhinoplasty procedure on RealSelf.com. Here is her unedited real life experience at Roberts Cosmetic Surgery: www.RealSelf.com.
Why Dallas Facial Plastic Surgeon, Gregory D. Roberts, MD?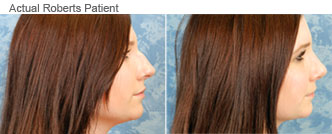 Gregory D. Roberts, M.D. has been practicing facial plastic surgery for 12 years. Dr. Roberts is certified by both the American Board of Facial Plastic & Reconstructive Surgery and the American Board of Otolaryngology-Head & Neck Surgery. His skill, training and artistry set him apart from many other plastic surgeons. The time and care he takes in a procedure can show not only in the results, but downtime, as well.
Before & After
It's never too late to begin reshaping your future. For a free confidential consultation, please email us or call us today at 972-608-0000 and let us help you reveal your natural beauty.

All Before After pictures depicted on page are actual Roberts' patients unless indicated otherwise. Banner pictures of individuals on this page are typically models (not patients), unless indicated otherwise.