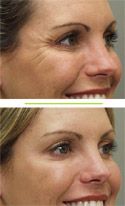 BOTOX® Cosmetic, Xeomin® and Dysport® are used by physicians to temporarily relax muscles in the face. This in turn reduces lines and wrinkles, such as crows feet, forehead lines and frown lines. BOTOX®, Xeomin® and Dysport® are very similar in their composition and the way they work to relax facial muscles to soften conditions like crow's feet, glabellar frown lines and forehead rows. With consistent injections every 4 months or so, you will find that previously etched lines will soften, and the etching can be completely erased over time for most individuals.
Natural, Longer Lasting Results
A frequent concern of patients who are new to BOTOX®, or have had a bad experience with another injector, is a fear of looking frozen or unnatural. At Roberts Cosmetic Surgery, all injections are performed either by Dr. Roberts who is certified by the American Board of Facial Plastic & Reconstructive Surgery or Dr. Roberts' registered nurse who has received formal training in botulinum toxin injections.


There has been much discussion of which product lasts longer. Many of Dr. Roberts' patients have commented that they believe Dysport® has lasted longer than their prior BOTOX injections. Whatever your preference, all three FDA-approved botulinum toxins are available at Roberts Cosmetic Surgery. Dr. Roberts' extensive experience and additional medical training make him the BOTOX® physician of choice for a growing number of Dallas, Plano, Richardson, Allen, Ft Worth and adjacent area residents.
Treat Excess Sweating with BOTOX®
Just about everyone knows that BOTOX®, Xeomin® and Dysport® are used to erase wrinkles and lines. Did you know that botulinum toxins such as these have also been in use for decades for therapeutic conditions, involving far greater doses than those used for cosmetic purposes. For instance, BOTOX® has been used for several decades in the U.S. to treat medical conditions such as eye twitching (blepharospasm), headaches, and excess sweating (hyperhydrosis), as well as muscle spasms in patients with disabling spastic disorders. In addition to cosmetic medical procedures, Dr. Roberts treats patients with hyperhidrosis excess sweating issues at reduced pricing.
How much does BOTOX®, Xeomin® (or Dysport®) cost?

Many patients are confused by pricing of BOTOX®, Xeomin® and Dysport®. Some practices charge by the area and some by the unit. Unit measurements are different in a vial of BOTOX® (or Xeomin®) vs a vial of Dysport®. And to seemingly complicate matters even more, medical practitioners may add more or less dilution to their doses. This is confusing! So how is one to compare?
First of all, while Dr. Roberts' uses minimal dilution, it should not be a concern that other physicians or nurses may dilute their BOTOX® doses more. In each dose, it is the number of units you should be concerned about because each unit contains a unit of BOTOX® (or Xeomin® or Dysport®), regardless of the amount of dilution added to the unit of BOTOX®, Xeomin® or Dysport®. That said, with respect to unit pricing, it is difficult to know ahead of time how many units you will receive. This can lead some of us to wonder if a medical practice is charging me for more units than I actually need.
For these reasons, Dr. Roberts charges by the area. If BOTOX® or Xeomin® are used, each area is at least 20 units (2 areas at least 40 units). For Dysport®, each area is at least 50 units (100 units for 2 areas). If more units are needed to treat the area, then the patient is not charged for additional units needed to treat the area (except in instances of extreme wrinkling). This way you know exactly how much your treatment will be…each and every treatment. See the following diagrams to see the most common areas of treatment.

Experience and Training Count
Gregory Roberts, M.D. was among the first physicians in Texas to administer BOTOX® and Dysport® for cosmetic purposes. Dr. Roberts has refined his technique over thousands of injections to achieve a more natural look and to help optimize endurance of injections.
Our convenient location near George Bush Tollway in the Dallas Ft Worth metroplex suburb of Plano, as well as our No-Lines Guarantee make Botox® and Dysport® injections quick and easy. Convenience, short wait times and Dr. Roberts' experienced hands

are a few of the reasons that more individuals from Denton to Arlington to McKinney choose Dr. Roberts for their BOTOX® and Dysport® treatments.
Call Roberts Cosmetic Surgery Center today at 972-608-0000 or email us for a free
consultation, and let us show you how the hands of an experienced board certified facial plastic surgeon can result in more natural enduring results for your BOTOX® procedure.
---
Before & After
…photos include before after pictures from Allergan, as well as actual patients of Dr. Roberts.

All Before After pictures depicted on page are actual Roberts' patients unless indicated otherwise. Banner pictures of individuals on this page are typically models (not patients), unless indicated otherwise.