(Non Surgical Face Lift)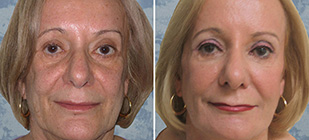 A Liquid Face Lift procedure is a non-surgical method for contouring, shaping and lifting facial features with advanced dermal fillers such as Juvederm® and Radiesse®. Over a million individuals have been treated with these advanced dermal fillers. These products are composed of natural substances found in the body, and are FDA approved to diminish wrinkles on portions of the face. In addition to removing wrinkles, these advanced fillers can be used to lift and contour facial features to restore natural, youthful contours.
A non surgical Liquid Face Lift is a versatile procedure that can be used to achieve a variety of objectives, such as the following:
Lift & Contour Facial Features
Contour & Diminish Jowls
Diminish the Appearance of Eye Pillows or Bags
Fill Sunken Eyes ~ Reduce the Appearance of Dark Circles
Restore a Rested and Energetic Look
Lift & Contour
Over time, skeletal changes, fat loss and collagen depletion will flatten the cheeks. This can accentuate sagging in many areas of the face like the hollows under the eyes, the jowls and a downward turn of the lips. Correction of the cheek area with liquid face lift products can effect a subtle, yet dramatic, improvement in a face that has lost some of its youthful contours.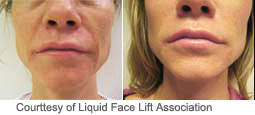 Liquid Facelift fillers are commonly injected into the upper cheek or along the jaw line to provide a gentle lift of facial features, as well as helping reduce wrinkles and smoothing the skin. The zygomatic or malar area of the cheeks is the area of the high cheek bone below the rims of the eyes that extends out to the sides of the face. The cheek bone area is a key treatment zone for many individuals who are seeking a lift in one of several aspects of the face. Liquid Face Lift fillers are placed into the 2nd layer of skin (known as the dermis) or into the subcutaneous area below the dermis.


Depending upon the facial characteristics of the patient and personal goals, Dr. Roberts can give the cheeks a smooth, natural curve or a more defined 'apple' effect. Patients preferring more of an apple-type cheek can ask for additional filler in the upper portion of the cheek area.
Jowls
The prejowl sulcus is a hollowing of an area on either side of the chin that is accentuated by the formation of jowls. This condition occurs in many individuals due to skeletal volume loss and facial atrophy, as part of the aging process.

To correct a prejowl sulcus or jowled appearance, Dr. Roberts can either inject filler into the depression between the jowl and the chin to lessen the jowl appearance, or he will inject fillers into the upper cheek area to lift the jowl (or some combination of the two techniques), depending upon the characteristics of your jowls. This procedure can restore a natural contour from cheek to chin in many individuals.
Eye Pillows, Bags, Sunken Eyes and Dark Circles
Sunken eyes, dark circles, eye pillows or bags can make us look tired or haggard when we are not. For patients who suffer from these distracting facial issues, Dr. Roberts can perform either a surgical blepharoplasty or a non surgical eye-contouring procedure with liquid face lift products. In the non-surgical alternative, Dr. Roberts will usually inject Radiesse® or Juvederm Ultra Plus® immediately below the

infraorbital rim (the area below the eye socket). If you suffer from pillows or bags, the injection will help contour the area, so the bags become less visible. If your eyes are sunken or hollow, then the fillers fill the sunken area to restore a more rested, energetic look. Restoring your natural contours around the eyes can have a remarkable impact on your personal relationships and employment opportunities because you can look healthier, happier and more energetic.
Liquid Face Lift techniques are experiencing continual refinement among a few leading facial plastic surgeons in the U.S. Results from a Liquid Face Lift can range from subtle to astonishing. It is common for patients who have had Liquid Face Lift procedures to say that they receive compliments on their appearance without others knowing that they have done anything.
Dallas cosmetic surgeon, Gregory D. Roberts, M.D. is certified by the American Board of Facial Plastic and Reconstructive Surgery. Dr. Roberts has extensive experience performing dermal filler, BOTOX® and liquid face lift procedures nearly a decade.
All Pictures Actual Roberts Patients, unless otherwise indicated.


It's never too late to begin reshaping your future. For a free confidential consultation to determine the option that is best for you, please email us or call us today at 972-608-0000.

All Before After pictures depicted on page are actual Roberts' patients unless indicated otherwise. Banner pictures of individuals on this page are typically models (not patients), unless indicated otherwise.