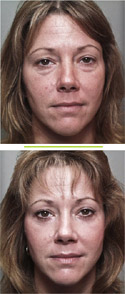 Eyelid surgery, or blepharoplasty, is a common procedure facial plastic surgeons perform on men and women to repair sagging upper eyelids or to remove lower excess skin and reduce puffiness.
As we age skin gradually loses elasticity. A lack of elasticity and the constant pull of gravity can cause excessive skin to collect on the upper and lower eyelids. Excess skin on the lower eyelid causes wrinkles. Combined with accumulation of fat deposits, bulges can form. On the upper eyelids, an extra fold of skin can hang over the eyelashes.
A blepharoplasty procedure can help individuals look more refreshed. Some report improved vision if the upper lids were excessively droopy. Good candidates for blepharoplasty are adult men and women who don't smoke and are in overall good health.
LOWER BLEPHAROPLASTY
Dr. Roberts' patients can see great results because he employs a transconjunctival incision technique just along the lower eyelash line to remove skin and/or redistribute excess fat, resulting in a virtually imperceptible scar. When excess skin is removed, it's referred to as a 'skin pinch'. Some surgeons still use a traditional incision, which can result in bulging or misshapen lower eyelids. Dr. Roberts sees no benefit to using this approach unless the patient has a lot of excess loose skin that needs to be excised.
In certain cases, when patients have a weak bone structure below bulging fat on their inferior orbital rim (a tear trough deformity) which causes a depression in the hollowed area near the nose bridge under the eye, then fat can be repositioned to fill in the depression. Once the depression is filled in and fullness is restored to the upper portion of the cheeks, the result is a more youthful, energetic appearance.
A lower blepharoplasty is typically performed under intravenous sedation. Most procedures take from one to two hours.
UPPER BLEPHAROPLASTY
An upper blepharoplasty, or eyelid lift, is recommended when patients experience loose or baggy skin that diminishes the eye's natural shape and contour. In some cases, patients report being able to see the skin as it rests on the upper lashes or feeling a heaviness over the eye. Oftentimes, a tired appearance prompts people to seek an eyelid lift.
An upper blepharoplasty can be performed under a local anesthesia or oral sedation. Most procedures take about an hour. When both an upper and lower blepharoplasty are performed together, Dr. Roberts uses IV sedation. Stitches are usually removed after five days. Patients can apply makeup after the sutures are removed.
What to Expect during and after Blepharoplasty:
In addition to the information provided above, Dr. Roberts takes special care during his surgeries to cauterize any bleeding points prior to close incisions to help minimize bleeding and bruising, typically leading to a quicker recovery. Very fine dissolvable stitches are used to close the incision, which is barely detectable once healed.
Bruising and swelling generally resolves in 7-10 days. Strenous activity is to be avoided for 2 weeks. We recommend sunscreen and sun avoidance during the healing period.
As bruising and swelling begin to subside you will notice improved contour underneath the lower eyelids with less fullness and puffiness.
Before & After
All before after pictures are of actual Roberts' patients.

A Blend of Science and Symmetry
Dr. Roberts puts over 12 years of experience in every blepharoplasty procedure. He strives to achieve contours that preserve an individual's unique, distinctive aura. Dr. Roberts takes great pride and time to help provide natural, healthy results for each individual patient.
Dr. Roberts is certified by the American Board of Facial Plastic and Reconstructive Surgery, as well as the American Board of Otolaryngology-Head & Neck Surgery.
It's never too late to begin reshaping your future. For a free confidential consultation, please email us or call us today at 972-608-0000 and let us help you reveal your natural beauty.

All Before After pictures depicted on page are actual Roberts' patients unless indicated otherwise. Banner pictures of individuals on this page are typically models (not patients), unless indicated otherwise.